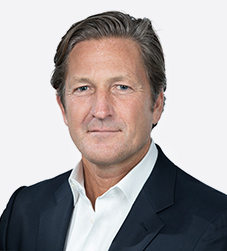 Gregg Lemkau is the Chairman of DFO. In addition, he is Co-CEO of BDT & MSD Partners.

Previously, Gregg was CEO of MSD Partners, a predecessor firm of BDT & MSD Partners. Prior to that, he was Co-Head of the Investment Banking Division at Goldman Sachs and served on the firm's Management Committee. During his 28-year tenure at Goldman Sachs, he advised clients on hundreds of transactions representing over $1 trillion of deal value while working in offices across the United States and Europe.

Gregg is a director of Culligan International Company and a board observer of GoodLeap, LLC. He is also a member of the Board of Trustees at Dartmouth College and Rockefeller University. In addition, he serves on the Board of Advisors for Team Rubicon, whose mission is to unite military veterans with first responders to rapidly deploy emergency response teams. He previously served as Chairman of the Board of Directors for Grassroot Soccer, a nonprofit using the power of soccer to fight against HIV and AIDS in Africa.

Gregg holds a B.A. in Government and Economics from Dartmouth College.